Happy Valentines Day ! 🌸🌸🌸
Pink, red, flowers and hearts= the perfect valentines cake. Find out how I made it here…

This is the first time I've used a heart shaped tin to make a cake so I was a bit nervous about how it would turn out.. but, it turned out perfect! The cake itself rose really really well so this is the perfect recipe if you're using a 6 inch heart shaped tin.
In this recipe I used desiccated coconut to make it a coconut cake butttttt you can easily make it into any cake you want by swapping the coconut for something else eg:
Zest of 2 lemons- lemon cake
50g coco powder- chocolate cake
2 tsp. vanilla extract- vanilla cake
Hope you try out and like this recipe, it was made with lots of love….
Ingredients
(for the cake)
180g unsalted butter, soft
180g caster sugar
180g self raising flour
6 tbsp. desiccated coconut
2 large eggs
(for the filling)
200g icing sugar
100g unsalted butter, softened
Juice 1 lemon
3 tbsp raspberry jam
(for the topping)
Pink, red and green fondant icing
Pink edible flower and pearl sprinkles
Method
Grease and line a 6 inch heart cake tin (link to buy tin at the end of this recipe).
In a large mixing bowl, whisk the caster sugar and softened butter together using a whisk (electric or non electric would be fine).
Beat in the eggs until they are all combined and the mixture is fairly smooth.
Pour, and then fold in, the flour and coconut with a wooden spoon or spatula.
Fold in the dry ingredients until everything is combined, but do not over mix- this may stop the cake from rising so well.
Preheat the oven to gas mark 4, 180 degrees electric or 160 degrees fan oven, then pour the cake mixture into the tin.
Place the cake onto the middle shelf of a preheated oven and bake for 45 mins. I covered the cake tin with tin foil for the last 15 mins to prevent the top from becoming too brown. You can check the cake is baked by inserting a knife or metal skewer into the centre of the cake- if it comes out clean, it is baked to perfection!
Once baked, remove from the oven and leave the cake to cool in its tin for 15 mins.
Once cooled, tip the cake out of the tin and leave to cool completely on a cooling wrack.
Meanwhile you can make your icing flowers. This is the fun part! I have done a previous post on how to make the roses which i'll link here. In the post I have used bread dough but it is exactly the same process when using fondant icing. In fact the icing works out much better and tastes

much

better… For the small flowers and leaves you'll need some icing cutters. I have linked at the bottom of the page the ones I use. I find its best to make the flowers and then leave them to set for at least half an hour- this way they set in shape and harden slightly which makes it much easier when decorating the cake.
Once the cake is cooled, carefully slice it in half so you have a bottom heart and a top heart (don't slice it in half the other way…..).
To make the buttercream filling, whisk the icing sugar, softened butter and lemon juice together. I would recommend adding the lemon juice gradually until you have the perfect consistency- you want the buttercream to be quite thick but creamy enough so you can spread it. Also

make sure you sift the icing sugar

otherwise you'll get a horrible, lumpy buttercream.
Spread the raspberry jam over the top of the bottom heart. Then top with 1/2 of the buttercream mixture. Spread the remaining buttercream mixture over the top of the top cake, then place it on top of the bottom cake (that sounds so much more confusing than it is). Then place the icing flowers, leaves and sprinkles over the cake in a pattern that you want.
A perfect gift to give to your loved one this valentines! Or even better, eat it all yourself… 

♥
Charlotte x x x
Links
Heart cake tin link £10.25 from CakeCraft Shop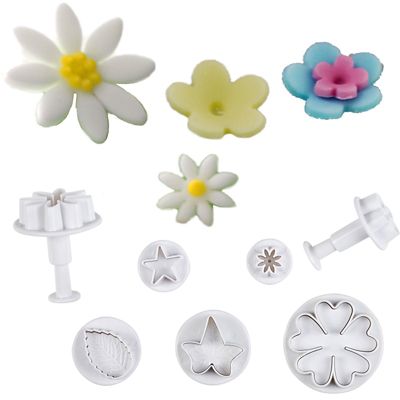 Leaf and flower cutters link £9.99 from Lakeland